You have probably noticed that shaggy haircuts have become the choice of many women all around the world.
Because we can witness a growing trend on messy casual haircuts, shag is a perfect fit. Nevertheless, it is not only regular women who fell in love with it. You can also see many celebrities rocking the haircut on the red carpet and in regular life. That is why we created a list of celebrities wearing shaggy who might inspire you. 
There is no doubt that this gorgeous movie star can rock anything, but shaggy haircut has been her signature look for years. She has chosen a shoulder-length for her cut with classic forehead bangs that only enhance her natural beauty. As for the styling technique, Halle Berry prefers medium messy chaotic curls of different length. It allows to preserve the volume and also looks stunning.
This famous singer has chosen the shaggy hairstyle for one of the red carpet appearances and it was the best choice. Taylor looked both elegant and stylish wearing it. She decided to go with classic straight but well-textured strands. To make the look even more interesting, she had a classic bang that was styled leaning to the left side.
This gorgeous young woman with crazy energetics has rocked the shaggy haircut. Her look is quite unique as her hair is naturally very curly. If you wondered if it is possible to wear shag with tight curls – she is the living example. Her strands are cut chaotically and have different length. Her medium-length haircut is perfect with classic forehead bang. 
Scarlett who is a word-wide famous actress has had numerous hair experiment over the last ten years and shaggy was a successful one. Her hair was neck-short back then with a beautiful asymmetrical bang to the right side. Her strands were also cut without a clear pattern to make the ends uneven and torn. As for the styling, Scarlett Johansson went with messy voluminous textured strands with a slight wave then and there.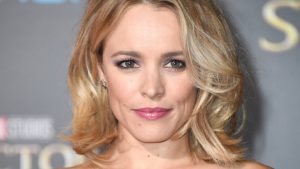 Another movie-star in our list with the shaggy haircut. For her look, she chose a shaggy bob of neck-length with hair lining on the right side. That made it visibly more voluminous and longer. For the hairstyle, she chose messy medium waves with an uneven pattern which made the look interesting and trendy.  
By considering everything, if you wanted to try shaggy but have never gone for it, this article is for you. We hope that the list of famous people including Halle Berry, Taylor Swift, Zendaya, Scarlett Johansson, and Rachel McAdams will inspire you!